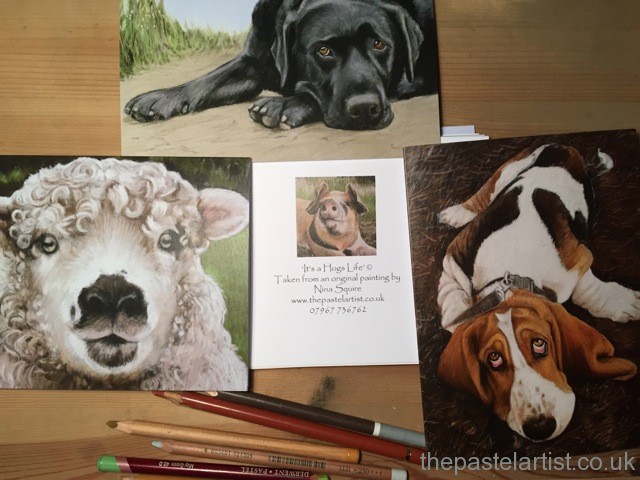 Pet portraits and greetings cards
My greetings cards have always been a popular part of my pet portrait displays. When I'm doing pastel workshops they work as a portfolio of treasured previous pet portraits. I find people often want a pastel portrait in a similar style to one of my characters. One lovely labrador, posed so beautifully I made him one of my first greetings card. It has led to a few enthusiastic owners becoming exasperated as an excited dog refuses to settle for us during a photo session, sensing the game but not realising that its all about looking relaxed! We have a few tricks to settle bouncy dogs, my favourite, a cuppa and a chat. That normally leads to that perfect relaxed pose as they sense the cuppa means they can settle in! Its always lovely to meet you and your animals and get a sense of their personalities before a portrait.
One of the things I've enjoyed over the last few years has been watching my greetings cards sell at popular venues locally. Stewarts Garden Centre have been generous in giving me a fantastic spot within their display, right next to The Coffee Shop! I'm in there regularly checking my stock levels with a freshly made coffee!
You can also find them stocked with The Basket Boutique, a lovely giftware company who travel the Countryside events in Dorset. Niss, the owner, has a beautiful black and white spaniel who has got a spot booked on my easel very soon. Updates to follow!