I became a Unison Colour Associate Artist in July, it has been one of my highlights of 2020. I've been a fan of Unison Colour and their pastels for many years. I've always enjoyed the opportunity to develop new ways of working with these versatile soft pastels and inspiring others through my workshops.
We've been developing ideas for a workshops around my popular seascapes pastel paintings. I'll be running a seascape painting workshop in the early part of 2021 with Unison Colour and its growing online community. As part of our planning for a workshop, they asked if I would design my ideal Seascapes set of 18 pastels for creating seascapes. Spending several weeks whittling down my favourites colours to select a set of 18 very special soft pastels was an interesting and challenging process.
My recipe for creating sparkling seascapes

I wanted to give you the background into my seascape set and my reasons behind my choices. It allows me to introduce the colourful pastel colours. As a professional artist and tutor I know first hand the importance of good quality art materials. Unison Colour soft pastels are exceptionally highly pigmented. They are buttery soft in consistency. Applying them to textured pastel card feels like painting and its colour is a pure pigment. If you are new to pastels then read more about my tips for starting out and suggestions. I include this sample pack from Jacksons which is a brilliant introduction.
The mixing happens on the canvas, it's immediate. I know they consistently perform on the media I apply them to.
The rich pigments in Unison Colour soft pastels create vibrant colours that are luminous. They really are a pleasure to work with.
Painting with soft pastels
I enjoy painting with pastels, I love the mark making and textures it creates. I use water or alcohol to liquify the pastel. There is a subtle difference between both techniques which you need to sample for yourself. On my workshop for beginners, I talk through the process of painting with pastels in more detail. I liquify the pastels on the surface to create a paste that I can paint a base layer to work layers of colour on. After they dry, the colours are set for you to work on without mixing layers as you work on them. It means you can layer more colour over a base layer. You can see a video of the process here.

With my seascapes I hope to create a lasting memory of a beach walk that you can look into. It feels like a window onto a view you'd like to be in. Seascapes that have sparkles of light, dancing on the waves and water as the sun catches it. That was the inspiration for calling them the Seascape and Sparkles set, a set you can capture and recreate seascape sparkles with.

My Set – Seascapes in a boxset

Your brightest pastel – White.
This is the key to successful seascapes and clouds. Not all white pastels are the same and some whites lack vibrancy you need. They can be too hard in consistency to create those highlights at the end of a painting. A soft Unison Colour white will sit brightly on a surface as it's soft enough to sit on layers of pastels. It creates a bright highlight that adds a dynamic details to a wave or cloud. Unison Colour white pastel creates bright white highlights that are luminous, it really is an exceptional pastel.

Your darkest – A49
This beautiful dark blue is the perfect contrast to bright white. It's depth of colour means that I can create dynamic contrasts to build layers of colour upon. It will add depth to any colour it is blended with. I use A49 as the starting base for areas of wet sand or as a base layer to build sea upon. It's a brilliant colour for seascapes. It is one of my favourite colours in the Unison Colour range for its versatility. If you haven't got one, put it on your wish list!
The sky mixture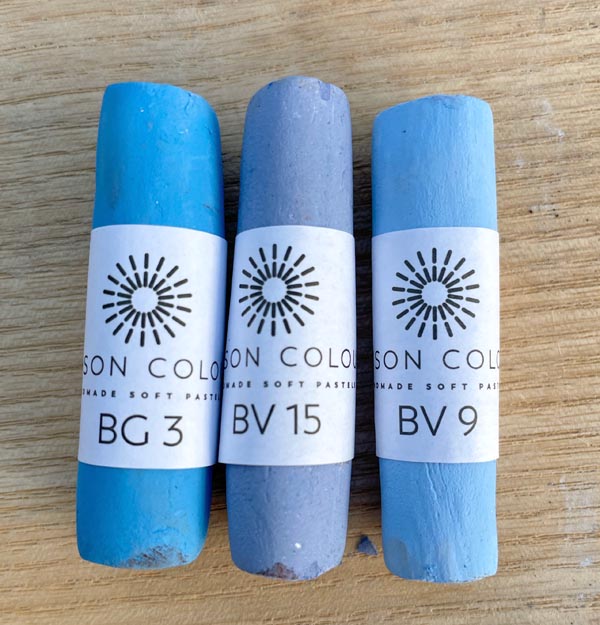 BV9
A perfect sky for me is created using BV9. It's a magnificent blue, it radiates warmth. It can be used to build up the depth of a sky or add sky lights back to dense tree shapes. Use it to give the sea dashes of reflected sky blue, this will bring a colour harmony over your seascape.

BV 15
BV15 gives your clouds more depth on a stormy day. It is a warm and dynamic colour. You could use it to create deep shadows or highlight rocks that are reflecting water. It's the colour of wet sand reflecting the grey clouds that you find in evening scenes. You'll find it in interesting shadows and interesting compositions often have a little splash of this somewhere.

BG 3
Is the perfect compliment to BV9. It has the depth of colour that you find in the sky over head on a sunny day. I use it to create a perfect sky blend, BV9 fading out to BG3. It's what summer sea views are made of.
Creating warm highlights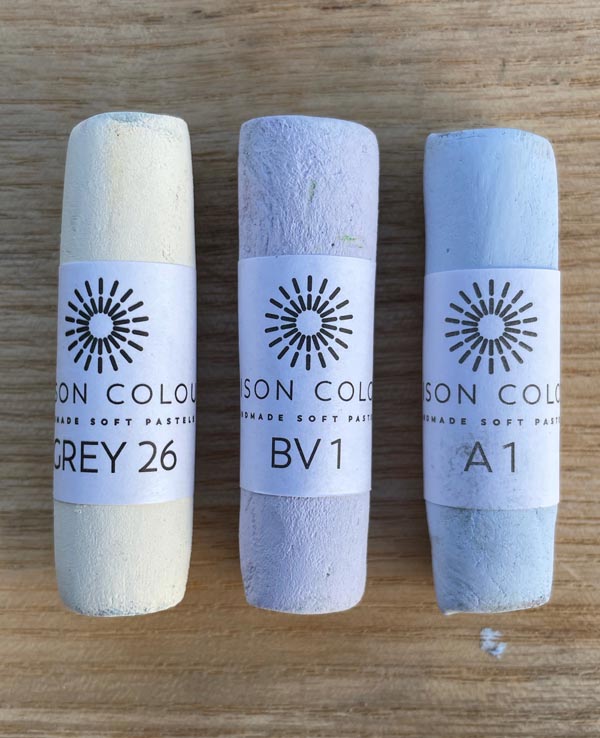 A1
A light blue that helps create a soft horizon. It is the beautiful faded blue that you can use to blend clouds. Its a versatile colour and I find it useful for areas that need softer highlights that aren't white. It's often found on rocks where the sea creates a puddle of light. A1 is the perfect colour to suggest water that's reflecting the sky.

BV1
The colour in the shadows of soft clouds as the sun sets. Using a light touch of Red 6 and Y16 to give warmth to the horizon can suggest at the warm sunlight bathing the horizon as the sun goes down.
Moody darks

A37
A37 is a rich earthy brown which is like the colour of wet earth or sandstone. It will help you create areas of rock which you build warmer colours upon. I use it in woodland scenes for trees. If I'm drawing landscapes it is the perfect colour for the base of hedges and undergrowth. A37 is a warm colour but it is strong colour which I prefer to black. It gives you a dynamic background to work on.

A29
A29 is my favourite dark purple. I use it for wet sands and shadows as it gives the depth you need. I like the way it retains a warm colour that adds interest. I've used it along with Dark 7, a deep emerald green, to create areas of interest in beach foregrounds. Those darks are what make seaweed look sensational!
Not forgetting greys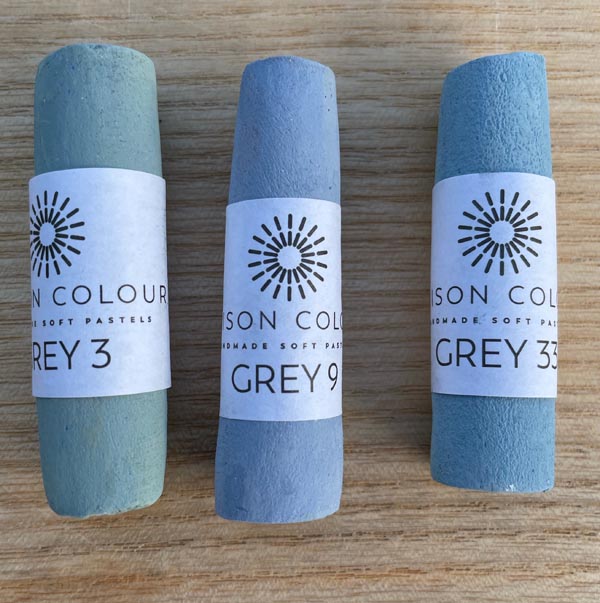 Grey 9
I've enjoyed the warmth I can create in shadows using this warm grey/purple. Interesting warm shadows keep paintings lively. Cold colours can flatten a shadow which can take the vibrancy out of a painting. It can be used to create moody storm clouds or as the bottom of a cloud. Creating a base to a cloud means we create clouds that are a believable three dimensional shape. Clouds often have the sun hitting the top and the bottom is in shadow. Those subtle colour changes are what helps them look believable as shapes. We then avoid white blobs of cotton wool style clouds that are often seen floating in paintings.

Grey 33 and 3 are the two colours that for me represent our UK greys. They create a beautiful vibrant seas, giving depth to watery waves. They are versatile colours. Now you've found them, you'll find them in landscapes, woodlands and building bricks and roofs.

My perfect beach recipe uses A 37 to create a base layer. A layer of BE25 with a blended touch of Dark 1 will give your sand depth. Drag Y16 over your base layer to create those lighter sand highlights. With lighter sand areas, areas blown by the wind, use BE25 and Grey 26 to make them sparkle.
Why choose my Unison Colour Seascapes Set?
My conclusion, the gems in my Seascape 18 Set are the colours I keep coming back to.
A dusty gem is that little chard of pastel that you can't bear to use up completely as its magic is irreplaceable

Dusty Jewels and Gems
They are the dusty jewels that creates the perfect highlight. Often, when I compare the tiny dusty gems to my colour chart, these are the colours that I find. Now I've shared them with you, I hope you'll find more ways of using these colours. This set can be the starting point for your own colour pallet to grown around. These colours are treasured additions to my colour pallet and I'm happy to share them with you. Being an artist, means I find I'm always looking at colour around me, subconsciously looking at how I would re create that using my preferred colour pallet.