Please join my workshop, mailing list for upcoming workshops. Link in my contact form.
Spaces are limited on my online Zoom sessions to ensure one to one tuition or you can buy my pre recorded sessions. Watch me create in real time the images below and learn techniques and tips whilst I build up a pastel. Workshops are £15.00. You can pay via Paypal, Eventbrite or use my shop facility, if you are outside the UK, please email me for a Paypal invoice or use Eventbrite.
Workshops 2021 – Dates added regularly. Please sign up to my newsletter keep up to date.
Golden Sands
9th March 10am -12.30pm A challenging beach view with golden sands and sun kissed clouds. Building up layers using several key pastel painting techniques, including liquid pastel.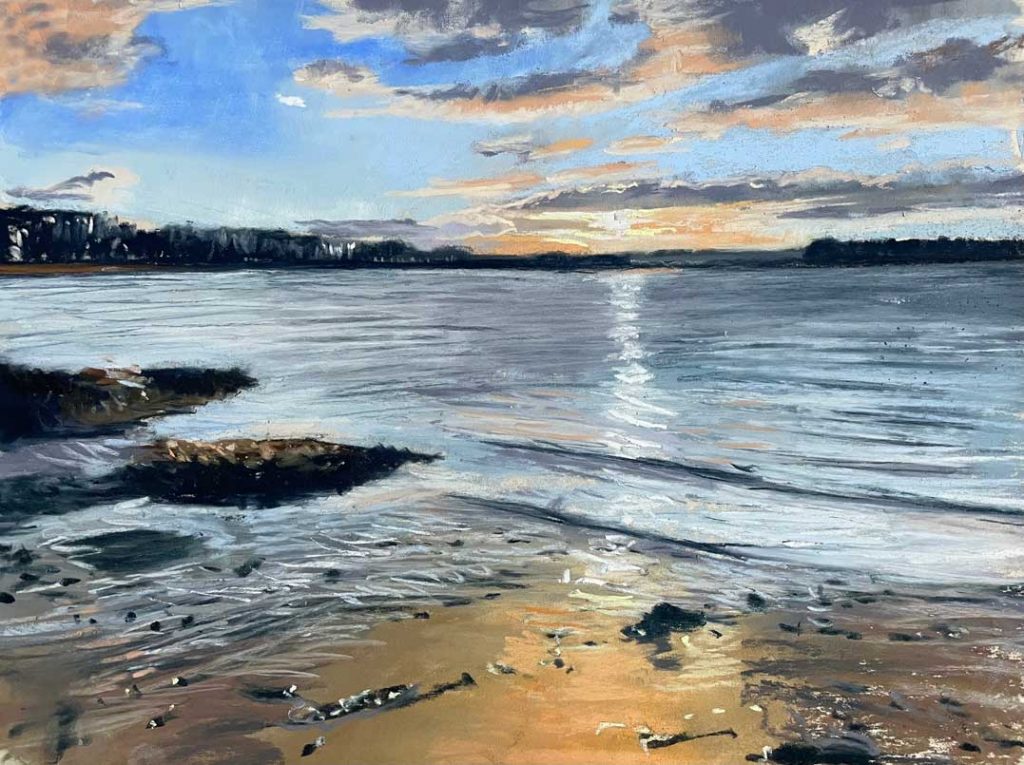 Bluebell WooD
13th March 10 – 12.30 am – Bluebells are always challenging. This workshop will help you build up a vibrant carpet of gorgeous blue flowers painting with pastels.
Snowy Woodland Walk Workshop
I will be using Unison Colour Soft Pastels to create a beautiful woodland scene. You can paint along with me or just watch me and absorb the process to repeat at a later date. The workshop is hosted on Facebook, in a private group. The workshop will be recorded so you can watch the video again after the session. I will be providing support and feedback in the group as you create your artworks. You'll learn important tecniques for painting with pastels and learn how to create a wintery scene.