My soft pastels capture characters and favourite views perfectly
Hello, I'm Nina Squire and I'm an artist and art tutor. In normal times I have a travelling studio – an easel, a set of soft pastels and a flask of coffee and I'm happy! When I can, I love to take part in shows and events where I enjoy the chance to meet and chat to people whilst I draw. However, since March 2020, and with my regular events and shows canceled, like many others I've starting teaching online.
Whilst I trained as a professional artist and illustrator at Falmouth University over 25 years ago, I'm mainly self taught. Most of my work is done in soft pastels, and my passion for the countryside and animals has brought me a long line of horse and dog commissions in this medium.
My works can be seen in many homes and offices, not only locally in Dorset, the South West and London but also as far away as the USA and Japan. My loyal customers have been the inspiration for developing several strands to my work. Many of my clients have returned over the years, drawing their first dog, their first home, their first pony or their family portraits as the years pass, or capturing places that are special to them, perhaps their favourite holiday views and their treasured memories. I'm perhaps best known for portraits of people's pets but, whatever the subject, for me it's all about capturing a personality, or an essence, and creating something that looks real. With everything I paint I want the viewer to feel they can walk in to the picture – or perhaps my subject might be just about to jump out into the real world!
For many years I've been the Artist in Residence with the Royal Artillery Point to Point at Larkhill. It was during a Point to Point event that I was asked to go to London. It transpired that I'd just been invited to visit the celebrated Kings Troop, Royal Horse Artillery, in London! I was lucky enough to get a personal behind the scenes tour of both Wellington Barracks and Horse Guards Parade during their summer residency. This led to me becoming their Artist in Residence for the Royal Windsor Horse Show, which was a stunning day. You can read more about my visit – and see some pictures- here.
When I attend events and shows people are often fascinated by watching me draw. Some enjoy observing the process and seeing the picture emerge, while others tell me about their love of drawing as a child, or their urge to take up pastels as a hobby. This is what led me to develop my first classes in teaching soft pastels over 20 years ago. Teaching people to make their own works of art has given me a new dimension of fulfilment in my own work: I meet people from all walks of life, and each has their own story to tell. What they all have in common is that they love art and they love animals – which makes them my sort of people! You can read more about my pastel classes here.
Unison Colour Associate Artist
One of my proudest artistic achievement of 2020 was an invitation to join Unison Colour as one of their Associate Artists. You can read more about my favourite hand made pastels here. Unison Colour are true artisans, who put a lot of love and skill into their products. I find that pastel painting is a very tactile activity and the way that my pastels feel on the paper makes a big difference to the quality of your my drawing experience, as well as the look of my finished work. I treasure Unison's hand made soft pastels and love to work with them. They enable me to create a surface that is pure painted pigment.
Collaborating with the National Trust
New ways of working in 2020 led to new collaborations. You can watch a video of the artwork that resulted from a partnership with the National Trust. We hoped to inspire more people to take a virtual trip to their favourite views whilst Lockdown prevented travel. I was inspired by one of their projects to protect the beautiful Dunes around the UK. I'm passionate about the coastline so I was very happy to write about my own experiences on the importance of preserving Dunes. Read more here.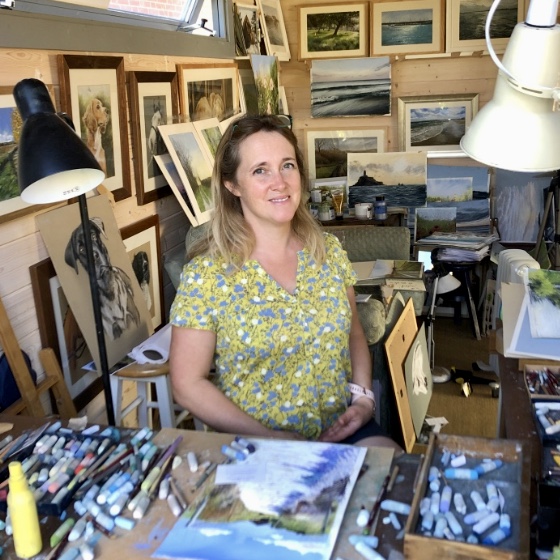 The Studio
My beautiful studio is usually available to visit by appointment only. Normally you can call to book and see the new pieces fresh off the easel. From 2020, I've been offering a virtual tour via Zoom, contact me for more information on how to see current work.
INSPIRING OTHERS TO FIND THEIR CREATIVE PATH
Lockdown created new challenges for us all but I knew that my art would be a refuge and sanctuary for me and for the members of my regular pastel class. I've always enjoyed exploring new ways of doing things and so I investigated new ways for my art group to meet online. Our group soon settled into the "new normal" and resumed their friendships, banter and – of course – pastel painting! This soon led to video calls about commissions and later I started to create video demos of my artwork to inspire my students.
I often spend my days off by the sea, it's always inspired my artwork. I have a huge collection of local photos. I have a seascape series of cards and prints from my artwork that sell at my events. During Lockdown, I used my seascape photographs to choose views that I particularly love in order to inspire new works of art and to inspire my online students. This has been warmly welcomed by the members of my regular class, who tell me that it feels a little like a virtual holiday to see a beach view unfold before them. I have created a series of online classes based on these seascapes, which are proving very popular. Here's a link to one of my favourites, and here's a link to my newsletter sign up which has more details about these "draw-along" demonstrations.
What used to be my open studio events have now become virtual tours via Zoom, so if you'd like to see my studio and perhaps discuss classes or a commission then I can show you some previous work and you can see me working in real time on current commissions – from the comfort and safety of your home!
In these times of physical separation from our friends and family I find that gifts are more important than ever. My greetings cards have been popular, letting loved ones know we are thinking of them is even more important now. During lockdown I've worked with my customers to create a range of surprises and gifts of lasting value. Do get in touch if you'd like to discuss an idea for a commission or even a personalised gift voucher that could be used for a picture or for an online art course to inspire a new hobby. When it is safe to do so, I hope to return to draw alongside my regular display at Stewarts Country Garden Centre in Wimborne, but until then you can buy my cards and prints in store.
Helping others invest in their new hobby
I've been shopping with Jacksons Art for the last 20 years. They consistently provided me with great prices and customer service. They've supported artists like me by championing good practice and by keeping their prices fair. You can read more about me in an interview on their site. They've recently set up an artist affiliate scheme so that when you buy something from them via a link from my site, I get a small commission. It's another way in which you can support me and I know that you'll be well looked after. Sign up to their mailing list for top offers and discounts.
Your beautiful picture of Tia reduced my husband to tears!!! He is really thrilled with it, so thank you for providing the best ever present….

Amanda
My popular online classes are growing. Here's one of my favourites, click here for more details on newly released 'draw along with me' demos
A privacy policy tells you about how I use your data.