I have created a series of ten workshops with a seascape theme. Although each workshop is self-contained, I have structured them progressively so that they can be taken together as a course. If you are a beginner, I suggest that you start with Number 1. Otherwise just look through the series and find a workshop that inspires you! If you're keen to learn then you can book all 10. Working with a theme is one of the most effective ways of re-enforcing your learning. Seascapes are brilliant for building confidence and developing your skills. I am running Live workshops in my first Online Autumn Term 2021 – or click here for the Summer Workshop recordings .
You can work through each workshop at your own pace or pick the scenes that appeal to you. The seascapes combine to make a progressive course, taking through a series of challenges to build up your skills and confidence.
Special Offer 10 week Seascape Course
10 workshops – buy 10 workshops and get the 10th free. Access to all 10 videos £135.00.
If you would like to get a feel for the pastel workshops, you can see a free demonstration in my Facebook group, Art Online. Once you chosen your workshop and have paid for a session, which costs £15. I will add you to the system and send you a private link to the video which is hosted on Youtube. It's all set up by a real human, me, so it can take a little time.

If you are making a start in pastels for the first time, then you will need something to draw with and something to draw on. I've answered some frequently asked questions here. A frequent beginners mistake is to buy a large set of cheaper pastels. Those of you who are more experienced will know that the quality of your pastels and paper is really important. Not only will it help you to create better pictures, it will also make the experience of pastel painting much more enjoyable! People usually find that it is better to start off with a smaller set of better materials and build from there. When you sign up for a session I will share with you my recommendations for the pastels and papers that you will need. For those of you who would like to go deeper into the topic, I suggest that you follow this link to a post where I explain how I chose my Unison set ….
How to create Seascapes Soft Pastel Workshop – A great introduction for beginners – Number 1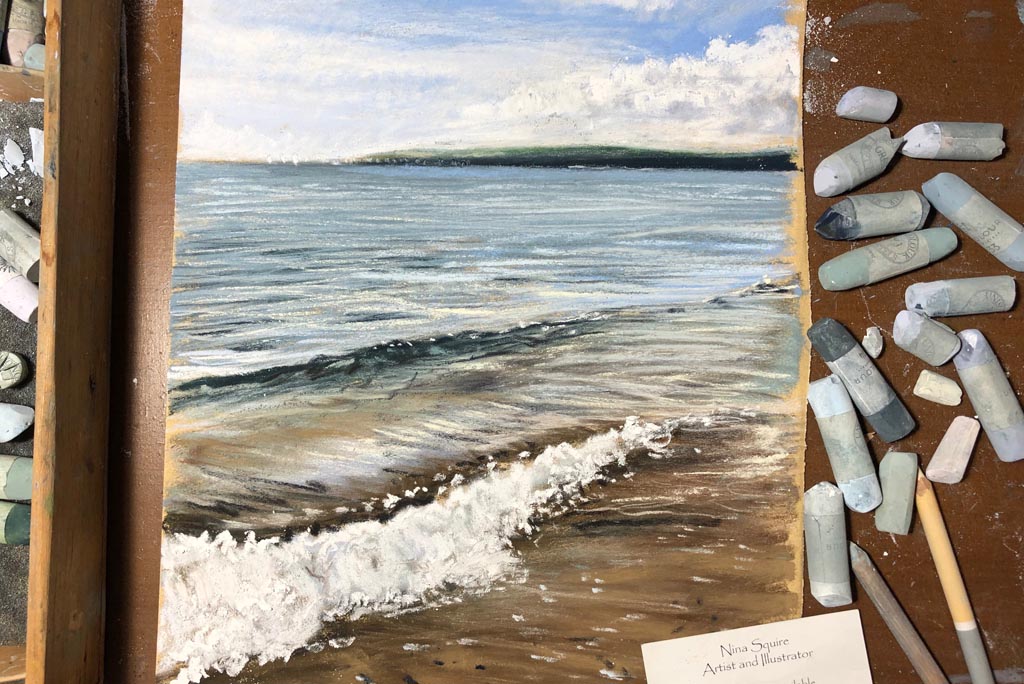 I knew this gorgeous view would be perfect for a beginner to gain confidence. If it's your first time or you are just returning to art after a break, this soft pastel workshop is a great place to start. A sunny view with a fluffy crashing wave is very forgiving for a beginner. It gets you using the media without having to worry too much about accuracy and drawing skills which will always come with time and practice.
Your first seascape and your wave will have its own character. It will be unique to you, just like the sea. Be kind to yourself when starting, it's always daunting but it's worth remembering that each workshop you do will help your skills improve. I'm using Sennelier Pastel Card and Unison Colour Pastels in my workshops. They've become my favourites but there are other brands that will be suitable. It's easier to create my images if you use the same surfaces and materials as me. Get in touch if you need advice ahead of choosing the pastel surface and which soft pastels to use. These frequently asked questions will help, click here.
I will explain the reasons behind my material choices and processes during the workshop.
Seascapes Online Workshop – Number 2
I designed this as the perfect introduction to using a liquid with pastels to paint. You'll learn some fantastic techniques. Learning how to create a sparking wave is so satisfying and this is a great confidence builder. The skills learnt on this workshop will help with other subjects that need added sparkles like distant trees and sparkling rivers. If you are wondering what you need for an online workshop, read this.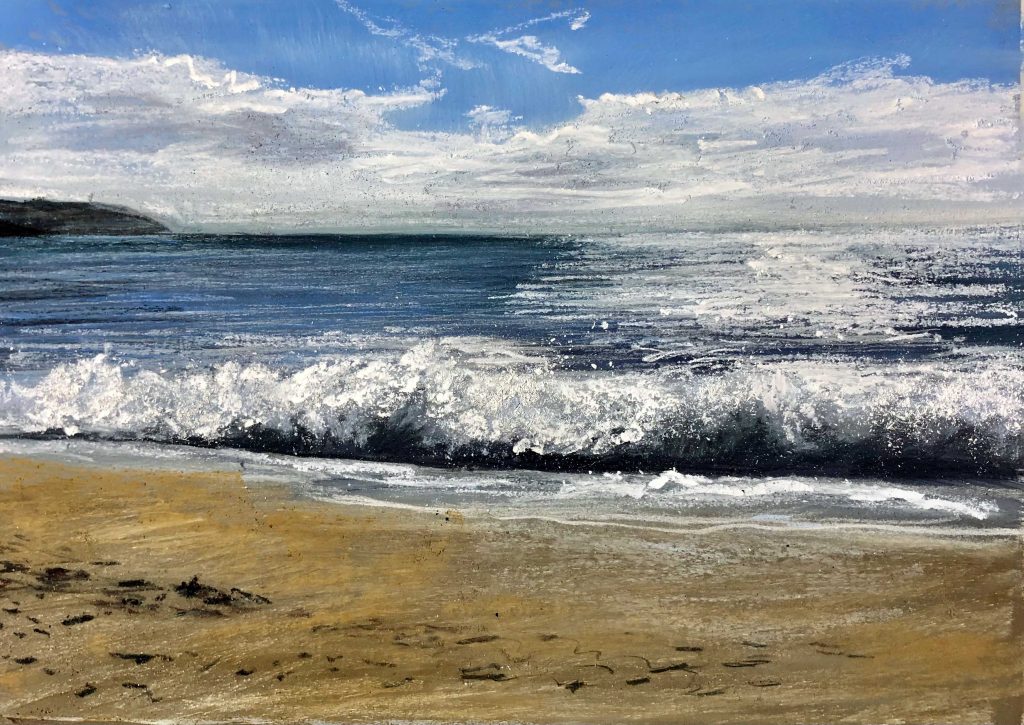 Seascapes Online Workshop – Number 3
Composition is something that we intuitively understand. A successful painting often has a pathway into it. The foreground interest of footprints draws the eye into the painting. In this workshop we will explore mark making and building layers on the sanded papers. This soft pastel painting demonstrates how effective building layers in pastels can be for creating depth of colour. The workshop will help you gain an understanding of building up contrast in your sea and sand. The skills covered are the same used for building depth in animal fur or a luscious landscape.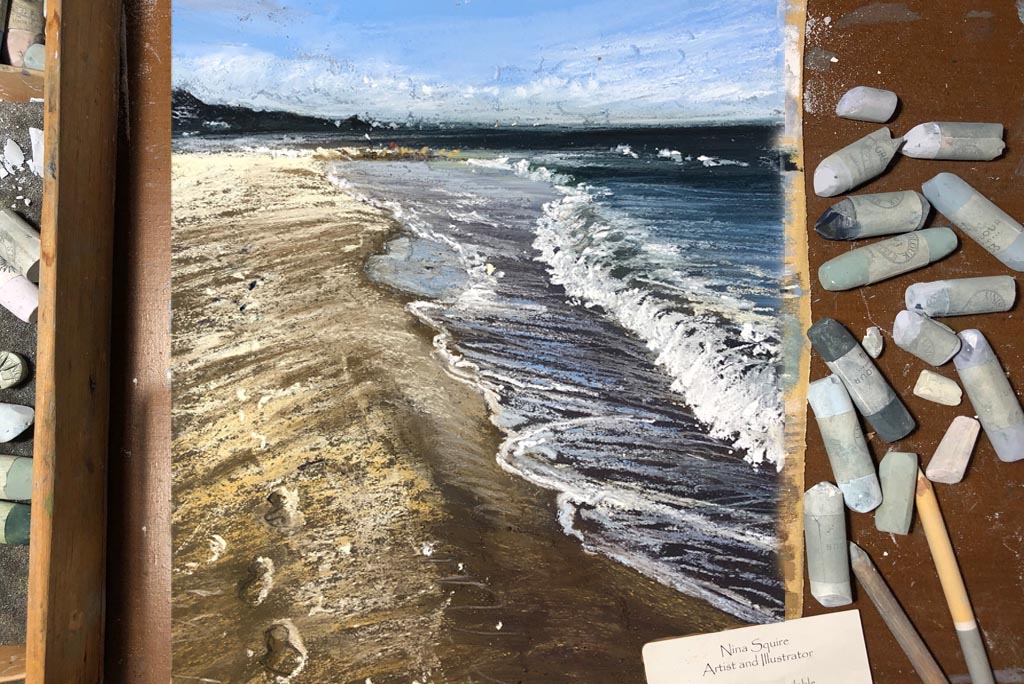 Seascape Online workshop – Number 4
The distant views and tufted sand dunes in this image are a great example of effective foreground interest. The low light creates a gorgeous shadow to emphasise the marram grasses against the sands. The skills you'll learn in this workshop will become the techniques you master to create cats' whiskers and animal fur as you develop accuracy. Looking for foreground interest in your own photos will help you improve your own reference images.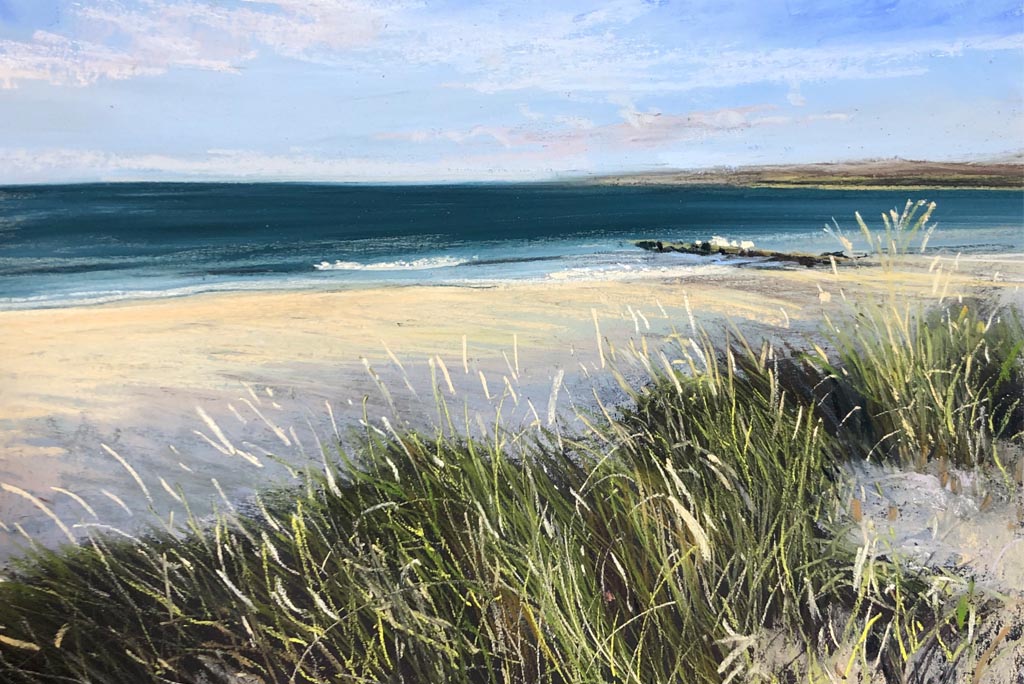 Seascape Online Workshop – Number 5
Learning how to create fluffy clouds is important in all landscape paintings. The distant views of Bournemouth are sparkling lights in the background and the fluffy clouds create a sense of perspective, leading our eye into the view. This workshop shows you how to create clouds as 3D shapes. They must have form and weight, created by the clever use of colour which is covered in the workshop.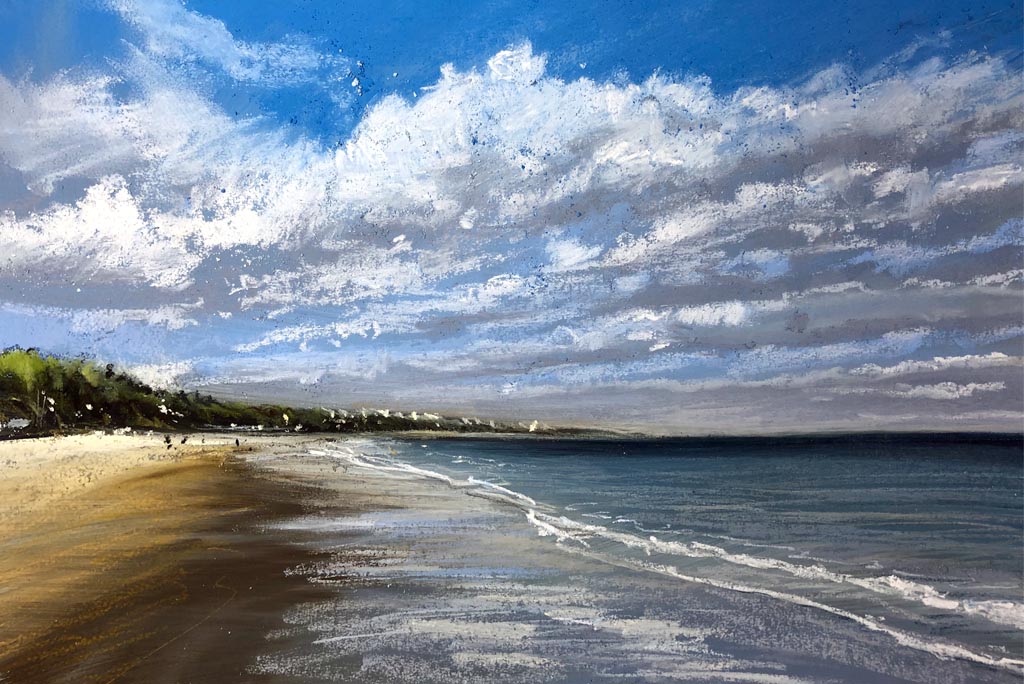 Seascape Online workshop – number 6
Not all seascapes have crashing waves. We also need to look at wet sand and the reflections it creates. The colours and contrasts that we are using to build up the foreground are satisfying areas of interest which lead your eye into the composition. It is important to look for areas of interest in your artwork and to keep adding them, even when you think you're finished. You should often take a break, to come back to your work with fresh eyes. It's not always practical, but turning the artwork upside down can help you notice new details or areas that need adjustment.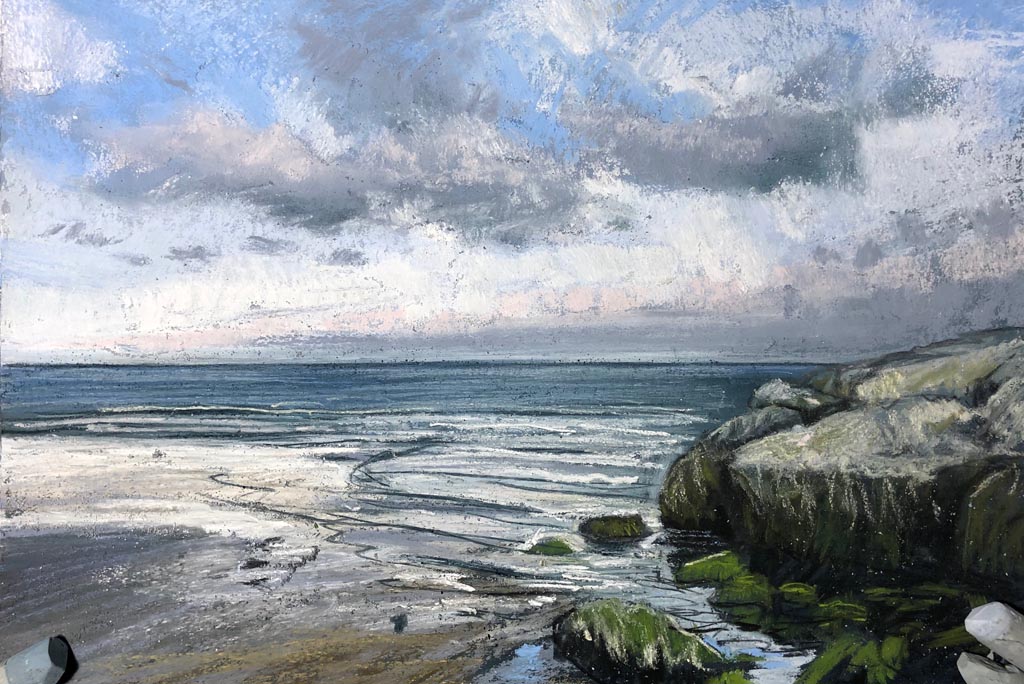 Seascape online workshop – number 7
This has been one of my most popular workshops. The tumbling waves and frothy tops are a great skill to develop. The sea silhouettes the breaking waves so you'll learn about building up contrast to emphasise them. You'll also learn more about the structure of waves, how to construct believable waves and how to choose the colours to enhance the vibrant effects of sea spray. Developing your mark making will give you confidence to tackle subjects that will give you more opportunities to build your own signature techniques.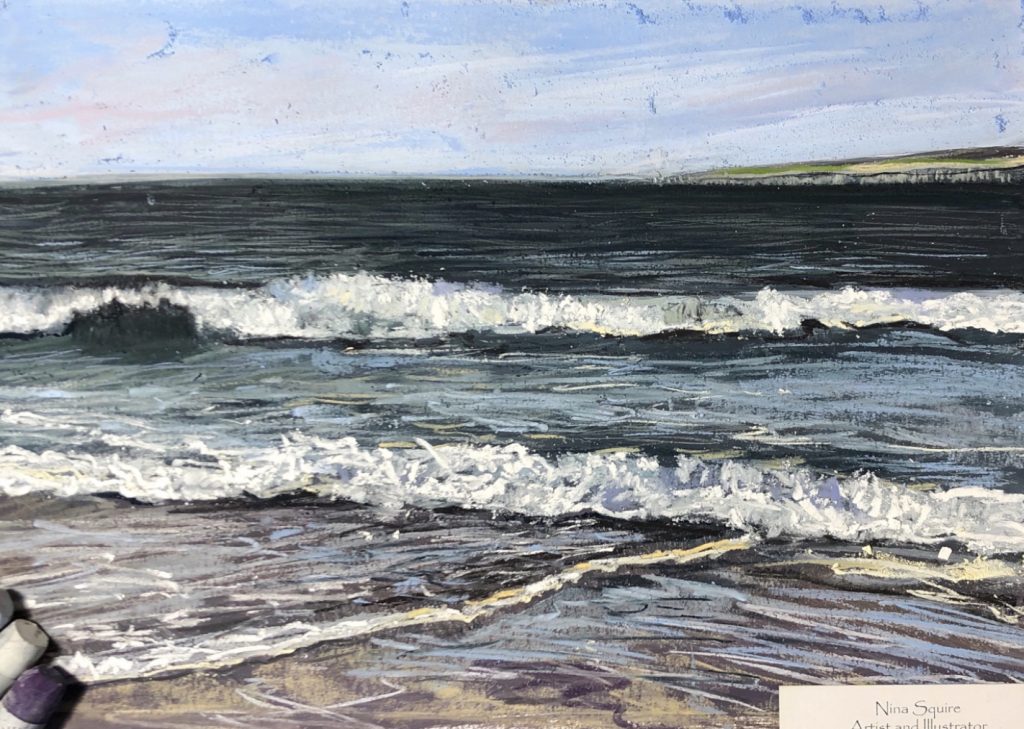 SEASCAPE ONLINE Workshop – NUMBER 8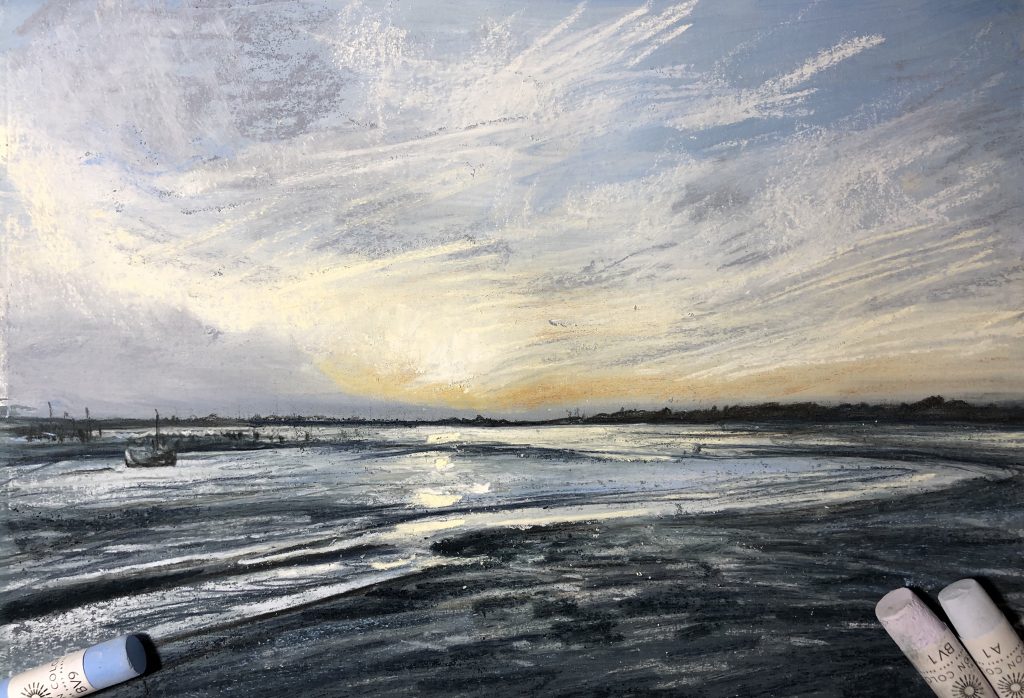 In this workshop we tackle together the challenge of creating a dramatic sunset with limited colours. The inky darks of the foreground create interest. You'll gain confidence in creating them and learn how to work back into them with liquid. This is a great way to learn to loosen up marks and work with pastels as mixed media.
Seascape online workshop – Number 9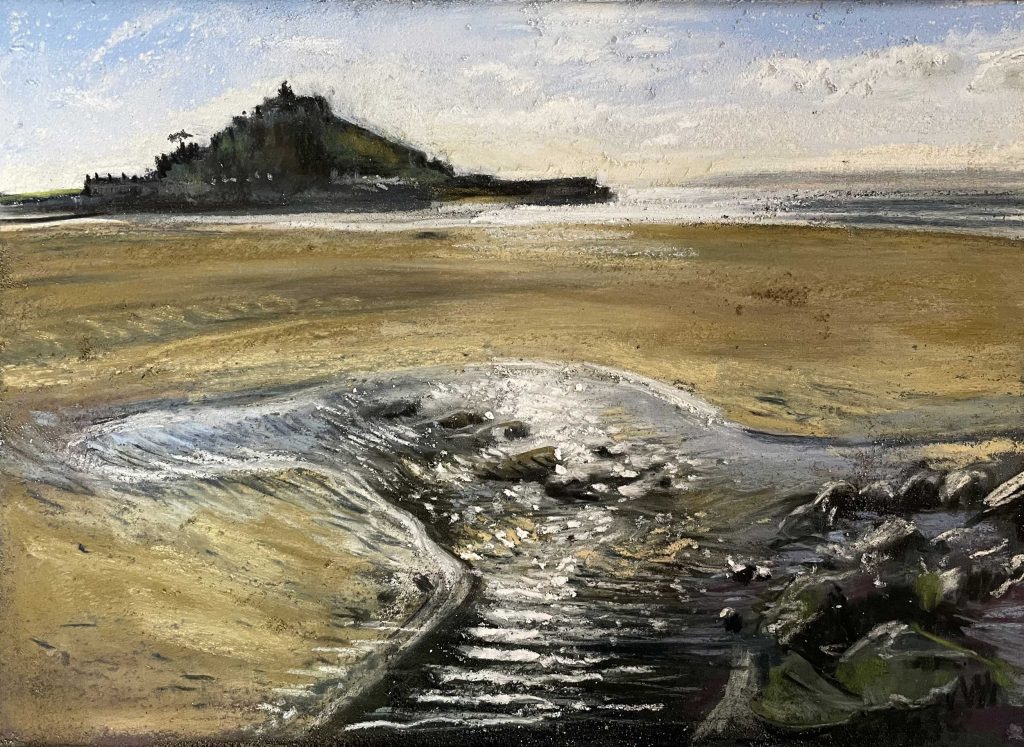 The sparkling rock pool and the silhouette of St Michael's Mount make this a fantastic image. The Mount is instantly recognisable. This time, I'm challenging you to work on a smaller format. You will need to concentrate on making each mark effective and emphasising contrast. This workshop will enable you to work on your drawing skills, along with the challenge of working on those sparkling highlights in the foreground.
SEASCAPE ONLINE WORKSHOP – NUMBER 10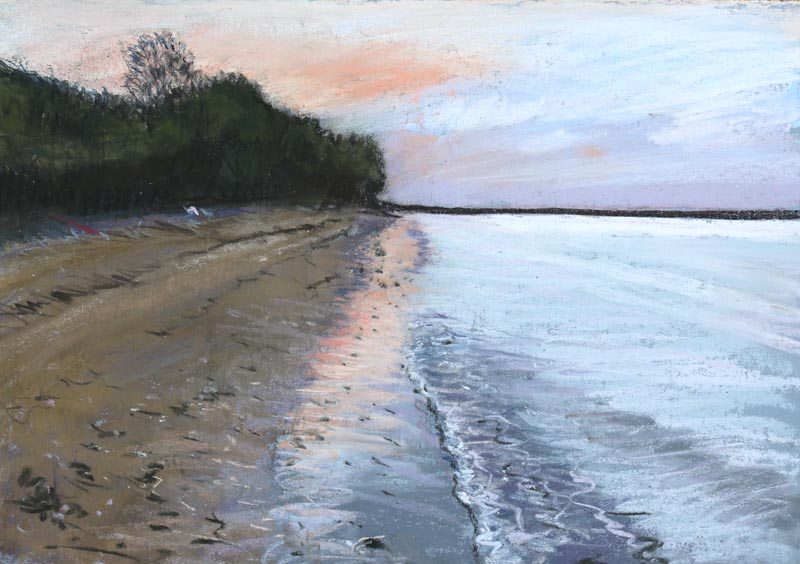 The challenge of a sunset with subtle colours and silky sands and glistening water. This workshop will enable you to work on your understanding of perspective. It's a beautiful view and a great way to explore your sunset colour palette. You'll receive a list of materials and notes to help you learn more about my technique. The video can be watched as many times and you need and stopped and started to help you gain confidence during creating the artwork.
We've reached the 10 week milestone, you now have 10 seascapes to your name.
I hope you've enjoyed your creative journey as much as I have. I know that it's not always been easy but you have much to celebrate. Your new skills are improving and, if this is your first attempt at pastel painting, you've found a new hobby. You have discovered a new way to escape to a place you'd like to visit. Make time to practice your skills and look for similar views and recreate them. Enjoy the process, and remember – if it gets too tricky, take a break and come back with fresh eyes.
Special offer – 10 workshops for the price of 9 when you buy all 10.
Personalised feedback
If you would prefer, I can give you detailed email feedback on your paintings via email from £45.00 in addition to the Youtube lessons.
Here's some of the recent feedback on Summer Term Online
"I wasn't sure if it would work but I have really enjoyed the workshops. Nice to see everyone, get help with problems , no one is critical and we have a laugh."

"We share our work and can ask for help and constructive criticism from Nina to keep our work progressing. This is such a great way of teaching, learning and staying in touch."

"I have found the online sessions fun, very engaging, productive and social. Demonstrations have provided a good insight on how to attempt and develop a range of subjects and techniques."

"Group online sessions have created a productive, relaxed and engaging atmosphere. It means we interact with other artists on aspects of painting. It's a friendly and helpful group of people."
More information about a face to face Soft Pastel workshop in Dorset
We work with pastels, acrylic and mixed media in our friendly and small art groups in Poole and Dorset. My art sessions are suitable for beginners and experienced artists. My 10 week courses will cover basic techniques and extend your mixed media skills and approaches. We use mainly soft pastel but occasionally it's effective to combine soft pastel with acrylic painting. I encourage you to collect your own images that inspire you, which I can help you turn into your own creation. You can bring in a selection of items to work from if you prefer to work from a still life. A selection of pastels can be provided for beginners and experimentation.
Click on weekly workshops in Wimborne for our weekly Thursday class opposite The Old Inn. Ring or email for dates.
Comments from Soft Pastel Workshops.
'I have been attending Nina's classes for nearly 5 years now and everyone I have met during that time has been friendly and have all, not only enjoyed the days, but learnt to produce amazing art work in a short time.'
'Nina's style of teaching seems to suit everybody, from beginners to more advanced and we are all encouraged to develop our own style and work on our own projects. It's my favourite day of the week!'
'My husband bought me a ten week pastel course as a Christmas present five years ago and I haven't missed a course since. It has been fantastic to learn a new skill among a group of such welcoming and supportive people many of whom have become good friends. Nina is a teacher who encourages us to develop our own style and guides us with a light touch enabling us to produce some amazing works of art.'
Booking is in advance and cannot be refunded unless you can find someone to replace you.